Details
Our #1 Kids masks are now available in Small size!
✔ Pack of 5pcs (Elephant) or Single piece (Kitty)
✔ Recommended for ages 4-8 years old 
Age recommendation is reference only. For the best fit, we encourage you to measure your kids' faces and refer to our size comparison tab.
✔ Size: Small 
✔ Elephant: 7.09"W x 5.91"H (Ear loop length = 2.76")
✔ Kitty: 7.2"W x 5.91" H (Ear loop length = 2.76") Slightly wider than our small elephant mask. Please refer to the size comparison chart. 
✔ No.1 kids mask in Korea with premium quality
✔ Korean Meltblown MB Filter system  
✔ 4 layer protection, 94%  protective filtration, easy breathing, adjustable ear loop length
✔ Aluminum nose support wire bridge. Anti-slip, anti-fog on eyeglasses and anti-skin irritation
✔ Made in Korea (Korean Ministry of Food and Drug Safety Approved) 
KFDA Link
The Korean Ministry of Food and Drug Safety approval code can be looked up on its website, however, it doesn't support English.
We are attaching a link to the website below for your reference.
Product Name: You and I Yellow dust Prevention Mask
Manufacturer: The Bio
KFDA Link
https://nedrug.mfds.go.kr/searchDrug?sort=ITEM_SEQ&sortOrder=false&searchYn=&page=1&searchDivision=detail&itemName=&entpName=&ingrName1=&ingrName2=&ingrName3=&itemSeq=201901394&stdrCodeName=&atcCodeName=&indutyClassCode=&sClassNo=&narcoticKindCode=&cancelCode=&etcOtcCode=&makeMaterialGb=&searchConEe=AND&eeDocData=&searchConUd=AND&udDocData=&searchConNb=AND&nbDocData=&startPermitDate=&endPermitDate= 
Material
- Inside/outside & Filter: Polypropylene
- Ear Loop: Polyester+Polyurethane
- Nose Wire: Polypropylene+Fe 
Size Comparison
Customer Reviews
02/07/2022
Catherine R.

United States
I recommend this product
Great masks for kids!!
Very very happy with them. Quality is great, and fit is great!
01/20/2022
KN

United States
I recommend this product
Good small mask
These masks are a great size for my smallish six year old. The kid sizes in a lot of other brands are a little too big. The nose wire is strong and I like how the straps adjust.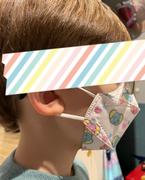 08/23/2021
Gina

United States
I recommend this product
Perfect for my 6 year old!
This mask fits great on my 6 year old. She like the elephant print. According to my little girl, it's light weighted and comfortable wear.